Antique Leather Dressing - Press Releases
Press Release from AntiqueLeatherDressing.co.uk
Date: 26th August 2003
For Immediate Release


Pecard appoint European Distributors for their
Antique Leather Dresssing
AntiqueLeatherDressing.co.uk (ALD) is a brand new venture, established to represent a specialist leather dressing product marketed under the manufacturer's trade name of Pecard.
ALD, based in Central Somerset in the South West of England, have recently been signed by Pecard Leather Care Products of Green Bay, Wisconsin, USA, to exclusively represent them in the United Kingdom and throughout mainland Europe. A selected range of Pecard Leather Care Products will be marketed by ALD, principally through their web site, which can be found at www.AntiqueLeatherDressing.co.uk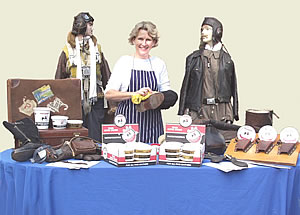 Val Pringle, the driving force behind the new business, said today 'Pecard Antique Leather Dressing is simply unique. We have been personally importing small quantities of the product direct from the United States, for use in an associate business, over many years. We can vouch that Pecard is arguably the best product for the specialist antique leather care market. It was a natural progression for us to represent Pecard in Europe to satisfy the undoubted demand from the diverse collectors' market.'
Pecard Leather Care Products celebrated their centenary in 2002. They manufacture a range of leather care products based on a petroleum lubricant similar to Vaseline, incorporating selected waxes, including beeswax. Pecard penetrates the leather, allows the fibres to bend and move without chafing and breaking, coats the fibres to inhibit oxidation, and helps maintain a desirable level of moisture. Pecard works on more modern leather products with equal success.
The applications for Pecard Leather Dressing are as wide as the specialist antique leather market itself. Pecard is just as good at rejuvenating a tired, but original, World War II flight jacket, as it is nourishing vintage riding tack. ALD already have a diverse customer base, ranging from the re-enactment community (who use Pecard to feed and protect 19th century gun slings and 16th century wine flagons) to collectors of classic footwear, luggage, flying helmets, whips and a multitude of other items.
AntiqueLeatherDressing.co.uk, as the name would suggest, has been created in the internet age. "We are particularly proud of our web presence," said Val. "The site has been developed to offer our customers simple and quick navigation with useful and informative product background. We also incorporate a user friendly Online Shop - our customers can place selected items directly into their 'shopping basket'. Then, on completion of a few simply questions, the system automatically calculates packing and dispatch charges to any destination in Europe. Our aim is to dispatch all orders within 48 hours of receipt of cleared funds."
Despite being a young business, the team behind AntiqueLeatherDressing.co.uk are serious about their niche market. It appears that, with a great product and their efficient online presence, they have a winning formula!
End