Leather Dressing for Reptile Skins
Snakeskin

Items made from Snakeskin are not so common in the UK, however we include this description for reference, just in case you have an old pair of Snakeskin Boots!
Reptile skins have special care and preservation needs. Pecard Leather Dressing gives long life and beauty to these costly materials.
Because boots are used on the ground where it is hotter, dirtier and drier, regularly wipe, or wash, boots then pat dry. Apply a conditioner and allow it to penetrate before wiping away the excess.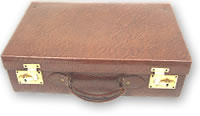 Although reptile skins are generally non-porous and resist most conditioners, Pecard uniquely clings and penetrates reptile skin. Pecard combines its excellent lubrication and consistency to work between the layers of snakeskin. Pecard adheres to the surface, providing long-term moisturisation, lubrication and waterproofing, as well as greatly enhancing the colour and feel of snakeskin boots.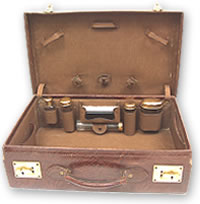 Pecard is chemically neutral and colouless, so it never endangers materials used with leather, such as stitching.
Pecard Leather Dressing is also superior for preserving areas of dress boots. For decades, it has been the natural choice for work, hunting, leisure and engineering footwear.
The pictures on this page
A reptile skin travelling case with fitted interior. The original components include a clothes brush, make-up containers etc.
Photographs of leather www.oldnautibits.com